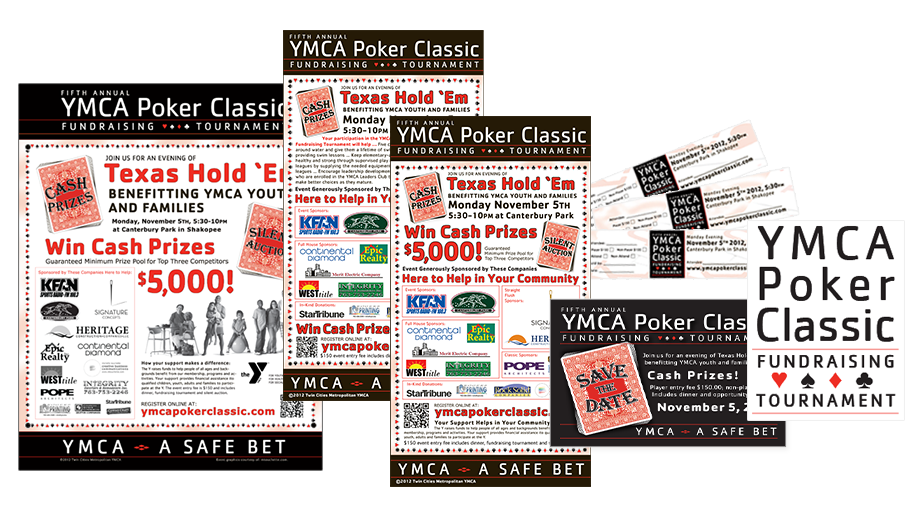 PROJECT: YMCA Poker Classic Fundraising Tournament (YPC)
CLIENT: YMCA of the Greater Twin Cities
OBJECTIVES: Increase event participation and revenue
MY ROLES: Branding, graphic design and production for all print and web materials; on-site materials and event signage (including digital screen displays); marketing strategy development; copyediting
---
The YPC was established by a group of philanthropist supporters of the Y. They partnered with a  local radio station and ran the event independently for the first three years.
The 2011 chairperson wanted to take this event up a notch with more sophisticated branding. His vision centered on a playing card motif evoking the old west, but with a sophisticated twist. He also recognized that the majority of revenue would come from corporate sponsors. We made front-and-center publicity for sponsors a significant component of the materials in order to provide a great ROI on their sponsorship contributions. In addition to fundraising, the chairperson also wanted to use the event to increase community awareness of the Y's services.
I worked closely with the chairperson and Y event and graphics staff to develop a full complement of marketing and event materials. Under the new branding event revenues increased by 400% the first year, and rose to a gross increase of 800% by my third, and last, year of involvement.
Teaser and Invitation Postcards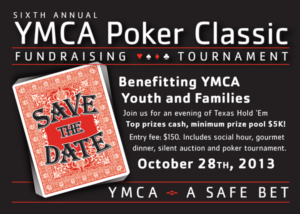 Sample 2011 and 2012 Event Marketing
A full complement of marketing, PR and on-site materials under the new branding was unveiled for the 2011 event and contributed to a 400% increase in event revenues. The Y unveiled their new organizational brand identity in early 2012 which necessitated changing the original font to comply with brand standards. We also introduced the theme "Here to Help in Your Community."
Sample 2013 Event Marketing
The 2013 theme "Relentless Commitment to Community" introduced a new set of photographs and a slight shift in tone to include case studies.
The 2014 event was cancelled due to scheduling conflicts. In 2015 the Y took complete ownership of the event and responsibility for the marketing materials was handed over to their in-house graphics department.
List of marketing and on-site materials created for each event
Teaser Postcard
Invitation Postcard
Pre-Event Brochure Targeting Potential Corporate Sponsors
Event Brochure w/Corporate Sponsor Logos
Sponsorship Letters (email)
Sponsorship Commitment Forms (PDF)
Two-Sided Tri-fold Flyer (print, PDF and email)
Large Poster
Branded MS Word Documents for Misc. Correspondence
Three Newspaper Adverts
Web Banners
Event Program
Silent Auction Bid Sheets
Table Tents
20×24 Event Signage:
Registration, Check-Out, and Thank You Posters
Digital Display Sponsor Thank You Screens
Microsite (2011 only)